It is located in the renowned touristic area of San Vito Lo Capo, at the far North western point of Sicily, in province of Trapani.
Our holiday houses lie in a suggestive, uncontaminated natural context to the boundary between sky, blue sea, land and mounts. A charming frame of peace and relax, among unusual roads and unforgettable dawns so as extraordinary sunsets. This is the "Usciere" oasis, for an harmonious and alternative vacation, in freedom, in just a 1 km from the inhabited centre of San Vito Lo Capo.
The residence area, exclusively for guests staying, is divided in many small villas, surrounded by a land spread over a surface of 25.000, sea front, from which to enjoy a picturesque suggestive landscape: westward San Vito Lo Capo is located on its lovely bay, up the tip of Sicily, with its charming lighthouse; eastward the "lanternino" of "Punta Solanto", the "Torre dell'Usciere". Also the ancient and evocative factory of the tunafish "Tonnara del Secco" before the eyelook get enchanted by the wide horizons all the way up to the "Zingaro natural Reserve".
The Residence has, within 200 metres, a private access to a stretch of pebbly and rocky coast, favourite dwelling, in some periods of the year, of royal sea-gulls. The lovers of the Nature will discover a wonderful sight, an area of rural characteristic and quiet rhythms of the ancient times…The limestone hill of "Monte Monaco" with its particular shape…, it is entirely to discover by foot or by bicycle, is pleasant to walk, to explore and appreciate such a singular context, for an holiday to rub in!
FACILITIES:
 ✔ Inside the property our guests will find some of the facilities dedicated just to them:
✔ The parking is always available and roomy enough to satisfy the needs of each apartment.
✔ Playground children dedicated and forbidden to the car circulation.
✔ A "barbecue area" with gazebo, tables and benches, so to set up enjoyable and funny meals, all together.
✔ Swimming pool rectangular  "Ultra Frame", solid, flexible, also suitable for bathing children (accompanied by an adult). Positioned to the interior of the property in a designated area, fenced, equipped with sun beds and beach umbrellas, and accessible only to residents.
Dimensions: 10 x 5 m – Height 1.35 m.
✔ A private path to the sea, within 200 metres, brings to a stretch of a pebbled seaside with sea rocks from where to dive into the sea ( not easy for children).
✔ The land around the property (30.000 square meters, entirely fenced), allow relaxing walks, and bike riding, enjoy unusual landscapes, pristine, where the eye look can wander all around, trough the sunrises and sunsets as to get carried by them.
✔ Please be advised that the use of facilities and the whole area is, for residents only. Visitors are not allowed.
✔ On demand it is possible to rent bicycles.
✔  N.B. An automatic vending machine of inexpensive hot drinks is available 24H just for our customers.
---
BARBECUE with gazebo tables and benches
The Residence offers a barbecue area with gazebo, tables and benches to set up grilled meals and enjoy all together.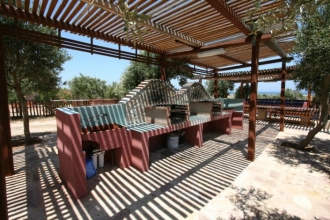 PLAY GROUND FOR CHILDREN
The playground  gives the opportunity to your children to enjoy hours of fun and games in a protected area forbidden  to car circulation.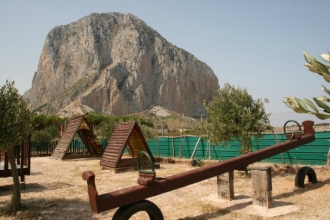 POOL FOR ADULTS AND CHILDREN
The residence also features a swimming pool for its guests and suitable for bathing of adults and children (accompanied).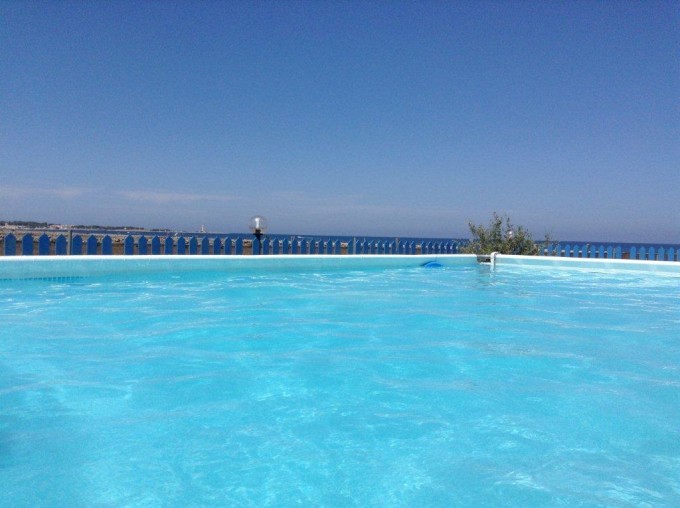 PRIVATE ACCESS SEA
A private access to the sea gives the exclusive advantage of being able to dive and swim within 200 meters, in a natural unspoiled surrounding.